Colonial Terminals and Norfolk Southern Partner on Development of $100M Breakbulk Facility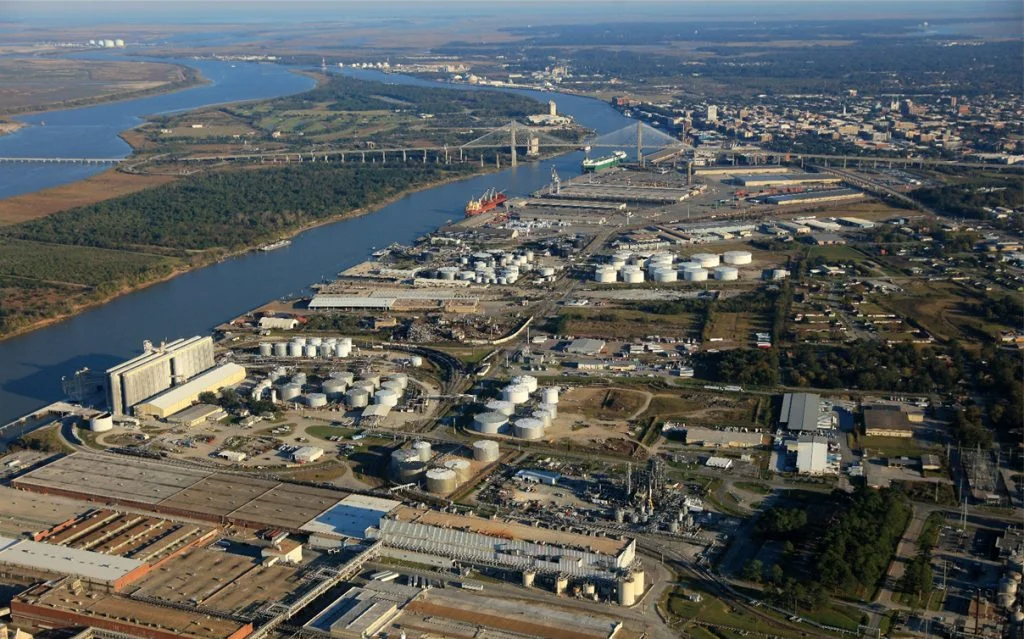 (SAVANNAH, GA) On June 9, 2023, Colonial Terminals, a division of Savannah-based Colonial Group, Inc., acquired 16.7 acres of land sited adjacent to an existing Colonial Terminal riverfront facility and a Norfolk Southern rail facility. The transaction will provide Colonial Terminals the ability to develop breakbulk infrastructure along the Savannah River.
"For nearly a century, Colonial Terminals has built its reputation by delivering world-class product handling services to dry and liquid bulk customers through our intermodal marine terminals," said Ryan Chandler, president of Colonial Terminals. "Leveraging our strategic infrastructure in partnership with Norfolk Southern to extend our reach into the breakbulk space is a logical next step for our high-service culture."
Chandler said the project should stimulate the regrowth of business that had been lost in recent years due to Georgia Port Authority's conversion of its Ocean Terminal facility, and would support further growth in the breakbulk segment as well as provide 20+ local jobs,
The new facility, directly served by Norfolk Southern, should allow in excess of a million tons of throughput and support the development of a new wide-span berth expected to move steel, paper, and other forest products, but capable of handling any general breakbulk cargo. Breakbulk is a common method of moving goods that cannot fit in standard-size shipping containers or cargo bins. Instead, cargo is transported in bags, boxes, crates, drums, and barrels, or by other methods.
"At Norfolk Southern, real estate assets are a strategic opportunity that we're leveraging to drive smart, sustainable growth for our customers and our rail network," said Vice President of Real Estate and Business Development Kathleen Smith. "This partnership furthers that mission, aligning our organizations to fulfill a critical supply chain need in the Southeast."
Phase one of the project would see the construction of the berth and refurbishment of the existing warehouse facility, and phase two will support a new rail-served warehouse or outside storage complex. The berth is expected to be permitted in mid-July of 2023, with construction to commence shortly thereafter. The project is expected to be completed in late 2024 and cost more than $100 million.
About Colonial Terminals
Colonial Terminals (CTI) is an industry leader in the handling and storage of liquid and dry bulk products. Colonial Terminals began operations in 1934 with the construction of a 21-acre, deep-water terminal located on the Savannah River to serve the burgeoning import and export, petroleum storage market. Today, Colonial Terminals owns and operates the largest, independent, liquid and dry bulk storage facilities with breakbulk capability in the Southeastern United States. Colonial Terminals is a wholly owned subsidiary of Colonial Group, Inc. Learn more at www.colonialterminals.com.
About Norfolk Southern
Since 1827, Norfolk Southern Corporation (NYSE: NSC) and its predecessor companies have safely moved the goods and materials that drive the U.S. economy. Today, it operates a customer-centric and operations-driven freight transportation network. Committed to furthering sustainability, Norfolk Southern helps its customers avoid 15 million tons of yearly carbon emissions by shipping via rail. Its dedicated team members deliver more than 7 million carloads annually, from agriculture to consumer goods, and is the largest rail shipper of auto products and metals in North America. Norfolk Southern also has the most extensive intermodal network in the eastern U.S., serving a majority of the country's population and manufacturing base, with connections to every major container port on the Atlantic coast as well as the Gulf of Mexico and Great Lakes. Learn more by visiting www.NorfolkSouthern.com.