Colonial Group, Inc. Announces New Corporate Headquarters in Savannah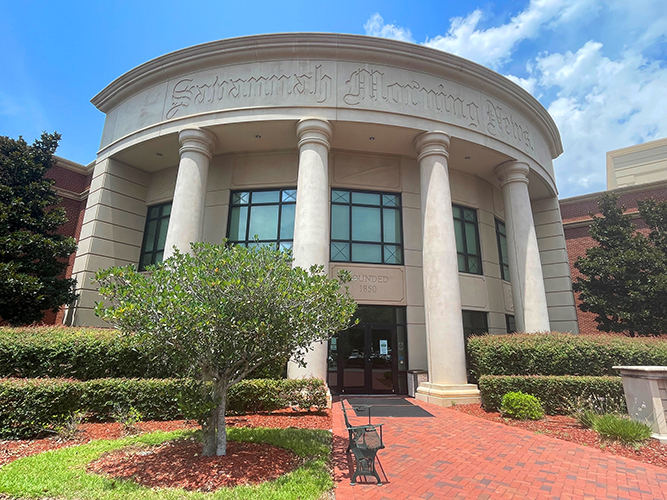 Company growth drives need for larger, centralized hub.
(SAVANNAH, Ga.) Colonial Group, Inc., a diversified group of companies focused on the energy, chemicals, distribution, and logistics industries, announced today that it will relocate its corporate headquarters to 1375 Chatham Parkway, the facility built for the Savannah Morning News in 2003.
"Our Colonial family has grown significantly over the past several years," stated Christian Demere, president and CEO of Colonial Group. "With our Savannah area employees currently working in eight different offices that have reached or are nearing capacity, we are thrilled to secure this larger facility that will consolidate our office personnel. This location will create a more collaborative atmosphere for our employees which will allow us to better support our operations and accommodate our needs as we continue to grow."
The newly acquired three-story office encompasses an impressive 99,000 square feet, situated on more than 17 acres. The property also includes an additional 145,000-square-foot warehouse previously used as a newspaper press and distribution facility.
Building renovations are expected to begin in the near term, and Colonial Group intends to relocate the majority of their local corporate personnel to the new headquarters over time.
ABOUT COLONIAL GROUP INC.
A fourth-generation family-owned business founded in 1921, Colonial Group Inc. ("Colonial Group") is a diversified energy and port-related company headquartered in Savannah and one of America's largest privately held companies. In 2021, the company marked its 100th anniversary by celebrating with its dedicated team of more than 2,000 employees, giving to hometown causes, and observing historical milestones. Over the years, the business has diversified to be the umbrella company of Colonial Oil, Colonial Terminals, Colonial Transportation Solutions, Enmarket, Colonial Energy, Colonial Chemical Solutions, Colonial Towing, Aqua Smart, and Crown Carbon Reduction Technologies. For more information on Colonial Group, Inc., please visit www.colonialgroupinc.com.